Obviously, good indoor air quality is important. But how do you measure? Simple! With this modern designed CO2 meter you now have insight into the air quality wherever and whenever you want! You can even set a visible and audible alarm in case of poor air quality. The CO2 meter not only measures the CO2 values in the air, but also the humidity and temperature. The device provides an overall picture of your living environment.
Why the CO2 meter Advanced?
With this Advanced version we go one step further. Not only do you measure the current air quality in a home or business premises, but a logbook is also kept. Simply and effectively displayed as a graph on the screen. This makes it easy to monitor whether the room is structurally ventilated enough.
The amount of CO2 may not exceed 1200 ppm. Higher values make the air unhealthy. Up to 700 ppm the air quality is good, between 700 and 1000 ppm it can be better. If the CO2 level is always or often too high, then the ventilation is insufficient. Ventilation is only a temporary solution. Rather choose window ventilation, or consider installing mechanical ventilation or a fan.
Of course you don't spend all day looking at the beautiful screen of the CO2 meter. That's why a visible and audible alarm can be set when the CO2 value becomes too high.
How does the CO2 meter work?
The CO2 (carbon dioxide) meter continuously measures the air quality by measuring the number of carbon dioxide particles in the air. These results are easily displayed on the clear display. Ideal for the office, meeting room, bedroom or living room. On the display you can read the status: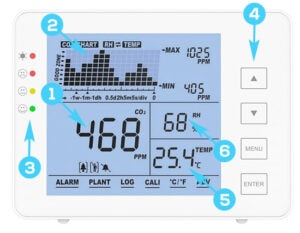 1. Indication of the carbon dioxide level in the air. Measured in PPM, parts per million by the built-in non-dispersive infrared sensor (NDIR).
2. Graph with measured CO2 values
3. LED indication air quality
– Green = air quality is good (50-700 ppm)
– Orange = air quality can be improved, ventilate (700-1000 ppm)
– Red = air quality is poor, ventilate (1000+ ppm)
4. Push buttons
5. Temperature
6. Humidity (percentage)
What is the best location for the CO2 meter?
The solid housing ensures that the meter can be placed stably on your desk, cabinet or table. Wall mounting is also possible. For optimal air quality assessment the meter should be placed in a room up to 60 m², preferably at a distance of 1 meter from the outside wall and/or windows. Position the CO2 meter so that there is sufficient distance to people in the room: this will prevent exhaled CO2 from influencing the results too much.
What is included with the CO2 meter Advanced?
The USB (2.0 Mini-B) cable and power adapter are sold separately as accessories. Environmentally friendly for those who already have a drawer full of chargers and cables!